Weddings
Thank you for considering Syracuse University's Hendricks Chapel as the setting for your wedding ceremony!  We look forward to partnering with you in planning for your special day.
We welcome couples from a broad and diverse background of faiths and identities to be married in Hendricks Chapel.
Chapel Spaces
The Main Chapel or Small Chapel may be reserved for a wedding ceremony. Please note that religious observances receive top priority for use of Hendricks Chapel spaces.  
Main Chapel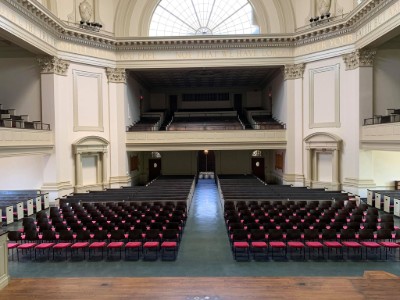 Located at the top of Hendricks Chapel's iconic exterior stairs and through the front doors is the Main Chapel, which serves as a sacred space for a broad range of religious and spiritual practices. 
The Main Chapel can host a maximum of 1,000 people.
The first six rows of the Chapel's center seating section are chairs, which can be moved and arranged to accommodate event needs.  
The Main Chapel has professional-grade sound and lighting systems, and built in audio-visual technology systems. All equipment is managed and operated by Hendricks Chapel staff.
The Main Chapel is air conditioned.
Food and drink are not allowed in the Main Chapel.  Pre-event 'green room' or gathering spaces for weddings reserved in the Main Chapel are located in the lower level of Hendricks Chapel.  Your wedding coordinator can review your needs and show you the spaces available for pre-wedding use. 
Small Chapel
The Small Chapel is located on the lower level of Hendricks Chapel. It can accommodate approximately 14 people comfortably in rows of chairs. The Small Chapel is an interior space (no windows) and offers a small worship center and podium, and flexible/dimmable lighting.  
Use of Our Spaces
We believe events held in our spaces should reflect our values, and serve as testimony of the Chapel's role as a home for all faiths and a place for all people. Hosting weddings, events and programs in our spaces expands our presence in service to our community and elevates our impact as the spiritual heart of our community. 
We do expect that wedding parties, guests, vendors, and visitors respect the sacred spaces of Hendricks Chapel. 
Reservations
Please be advised our wedding season begins the weekend prior to Memorial Day weekend and runs through the middle of August. We occasionally are able to schedule weddings during the academic year (when there are not religious observances, or University events in the Chapel, on the quad, or in the Dome).
As a next step, please submit this form to express your interest in reserving Hendricks Chapel. We will review your request within three (3) business days and will contact you with information regarding availability, pricing and next steps. Please contact chapelevents@syr.edu with any questions.
If we are able to verify your date is available and you confirm your interest in moving ahead with a reservation, we will email or mail you a complete wedding information packet, inclusive of the Reservation Form. The completed Reservation Form and full wedding fee must be returned promptly to Hendricks Chapel to confirm your reservation.   The wedding packet includes:
Hendricks Chapel Wedding Reservation Form – form must be signed by both spouses and include officiant information before being sent to Hendricks Chapel; additional details can be marked "to be determined" and provided at a later date if necessary
Request for Guest Chaplain/Public Official Form (if applicable) – this form only needs to be returned if you are using a guest officiant
Music Policy
Florist Information (two copies) – you can provide your own flowers or hire a florist
Photography and Video Information (two copies) – includes Hendricks Chapel's photography and videography guidelines
After making your reservation, any changes to the time of your rehearsal or wedding must be approved by Hendricks Chapel.  Please contact chapelevents@syr.edu to discuss any changes to your reservation.